WELCOME
to Ocala's 40 Days for Life campaign website!

YOU can help save lives!
During this 2012 Spring 40 Days For Life Campaign in numerous states across the nation, Canadian provinces and assorted international locations, our Ocala community will be one of hundreds of cities joining together for the most dynamic coordinated pro-life mobilization in history . . . 40 Days For Life.

JOIN US from February 22 through April 1, 2012, to pray and bear witness to the sanctity of human life: your own, ours, the aged, the infirm, and, certainly, the most vulnerable of all, the unborn growing in their mothers' wombs . . . every human life. If we who believe this don't act on our convictions, who will? Whom shall He send?
The 40 Days For Life campaign is made up of three key components:
40 days of individual prayer and fasting (all sacrifices, e.g. less food, less TV or other activities of interest; more spiritual or corporal works of mercy, etc.)
40 days of peaceful prayer vigil outside the abortion facility
40 days of community outreach
What 40 Days for Life has witnessed (so far!)
There have now been nine coordinated 40 Days for Life national campaigns since 2007, mobilizing people of faith and conscience in 422 cities across the United States and Canada, plus communities in Argentina, Armenia, Australia, Belize, Denmark, England, Georgia, Germany, Ireland, Northern Ireland, Puerto Rico and Spain.
During these unified efforts, participants witnessed countless blessings from God:
1,633 individual campaigns have taken place in 422 cities
More than 500,000 have joined together in an historic display of unity to pray and fast for an end to abortion
More than 14,000 church congregations have participated in the 40 Days for Life campaigns
Reports document 5,045 lives that have been spared from abortion — and those are just the ones we know about
61 abortion workers have quit their jobs and walked away from the abortion industry
19 abortion facilities completely shut down following local 40 Days for Life campaigns
Hundreds of women and men have been spared from the tragic effects of abortion, including a lifetime of regrets
More than 1,800 news stories have been featured in newspapers, magazines, radio shows and TV programs from coast to coast ... and overseas
Many people with past abortion experiences have stepped forward to begin post-abortion healing and recovery
After so many years of legalized abortion, many people of faith are experiencing a renewed sense of HOPE!
Have you been to pray at a 40 Days for Life vigil yet? You may ask, "What do I do?" or "What sign should I bring?" The answer is simple; the only sign you really need to bring is yourself, for you represent God's love.
Take a stand for life
While all aspects of 40 Days for Life are crucial in our effort to end abortion, the most visible component is the peaceful prayer vigil outside the local abortion facility.
You can help make a life-saving impact by joining our local vigil at:
Ocala Women's Center
108 NW Pine Avenue
Ocala, Florida 34475
(the abortion facility in the second block north of Silver Springs Blvd. on west side of Pine Ave.)
Contact us

To learn more, sign up for specific vigil hours, or let us know how you feel called to serve God in this effort, please contact the local 40 Days for Life leadership team:

Sam Rodriguez, Jr., Campaign Director
samgie@cox.net
Jorja Greig, Church Coordinator
jdarabians@earthlink.net
Fred Herbert, Vigil Coordinator horsecntry@aol.com
Get the latest updates
Be sure to sign-up for updates and prayer requests using the form at the top right of this page, and browse through the rest of this site to find out how YOU can help make a lifesaving impact as part of our local 40 Days for Life campaign.
Learn more about the national 40 Days for Life campaign.
We are praying that, with God's help, this groundbreaking effort will mark the beginning of the end of abortion in our city . . . and throughout America and the entire world.


Unlicensed Abortionist Pendergraft ** Operating Secret
Late-term "Fetal Lethal Injection Center" in the
Washington, DC area, his website shows.
(WE ARE PRAYING at Ocala Women's Center, the Ocala abortion center located at 108 N. Pine St., and owned by James S. Pendergraft IV.**)

Written by Operation Rescue
Posted January 30, 2011
Operation Rescue has filed complaints in the District and two states to stop Pendergraft from endangering women by killing their babies and forcing them elsewhere for completion of late-term abortions.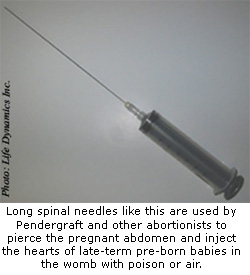 Washington, DC – Operation Rescue has learned that disgraced late-term abortionist James S. Pendergraft, IV, whose only active medical license remains under a double-suspension order in Florida, has set up shop in a secret late-term mill that can only be described as a "Fetal Lethal Injection Center" in the Washington, D. C. metro area where late-term abortions are being only partially completed.

Pendergraft has put himself in direct competition with another late-term abortionist, Nebraska's LeRoy Carhart, who also recently relocated his late-term abortion business to nearby Germantown, Maryland, to evade new laws in his home state.

But Pendergraft's late-term abortion scheme is unique.
Pendergraft has recently launched a web site called LateTermAbortion.net that describes in detail how his new office is soliciting women from all over the nation and from other countries for "intracardiac injection of medication into the fetal heart."

This process entails the injection of the heart-paralyzing drug Digoxin or an air bubble through the woman's abdomen into the heart of the pre-born baby for the purpose of killing him or her. The process is guided by live ultrasonic imaging.
"On one hand, Pendergraft says on the web site that the process is completely safe, then discusses how a mistake during the process can be 'catastrophic,'" said Operation Rescue President Troy Newman. "It is evident even from his own writings that Pendergraft's new operation is dangerous in that it places women in a life-threatening condition only to send them on their way where someone else must clean up the mess."

Pendergraft makes it very clear that he does not complete the abortion process at his secret office, but discharges patients within 10 to 15 minutes of the injection, after which they are forced to rush back to their personal physicians in their home states or other facilities for the removal of the dead baby before infection sets in. Without treatment, women in this condition can die.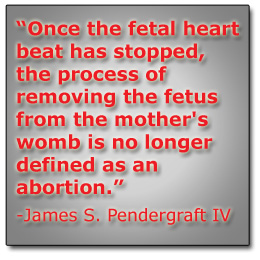 The notorious abortionists
Steven Chase Brigham and Kermit Gosnell shocked regulators who discovered each of them committing late-term abortions that began in one state and ended in another. Brigham would illegally begin late-term abortions in New Jersey then ferry women to a secret late-term mill in Elkton, Marytland, for the removal of the dead baby.mill in Elkton, Maryland, for the removal of the dead baby. Gosnell was known to begin late-term abortions at an abortion mill in Wilmington, Delaware, and later finish them at his "house of horrors" clinic in Philadelphia, Pennsylvania.
Of dangerous bi-state abortion plans, New Jersey State Board of Medical Examiners stated, "Brigham's treatment of patients S.D. and N. C. and all unidentified New Jersey patients whose terminations of pregnancies began in New Jersey and concluded out of State constitutes acts of gross and/or repeated negligence…Brigham's conduct constitutes a clear and imminent danger to the public and warrants immediate temporary suspension of [his] license to practice medicine and surgery in the State of New Jersey."

Maryland is considering legislation to ban the dangerous practice of starting late-term abortions in one state and ending them in another.

During testimony in his criminal trial, the late George R. Tiller admitted that on rare occasions he would fatally inject a fetal heart, after whicdh he would send the woman back to her home state where her private physician would finish the abortion. After his death in 2009, all investigations into Tiller's dubious abortion practices ceased. It is more than likely that Pendergraft is now trying to cah in on part of the lucrative late-term abortion market suddenly available after the closure of Tiller's infamous Wichita, Kansas, abortion mill.

Pendergraft also makes it clear in the defiant text of his new web site that he is engaging in this multi-state late-term abortion scheme to evade the laws of Florida and compel the participation of others in the abortion process.

"Once the fetal heart has stopped, the process of removing the fetus from the mother's womb is not longer defined as an abortion," stated Pendergraft. He offers this as a way to force hospitals and physicians that otherwise may balk at abortion to finish the abortion process since the woman now faces a seriious life-threatening condition.

"Pendergraft is using women by placing them in harm's way in order to make a political point in states that ban his pet procedure," said Newman. "As despicable as this is, he is also apparently charging them exorbitant prices to do it. He says the process is 'not inexpensive' but does not list his fees. Secrecy shrouds his entire illicit operation."
That includes the location of his Washington, D.C. area mill. In cloak-and-dagger fashion, Pendergraft describes how women will be told over the phone to meet at a specific location, where they and only one other friend or family member will be met and escorted to the secret facility for their baby's fatal injection.
"While Pendergraft attempts to convince the reader this is about security, it is more likely about evading law enforcement, because this dangerous process is highly unethical and likely illegal since he holds no active medical license whatsoever," said Newman.
While it remains unknown the exact location of this new mill, descriptions on the website would place it in the jurisdiction of the District of Columbia, Maryland, or Virginia. Pendergraft's license in the District of Columbia expired in 1998, his Maryland license expired in 1999, and he has never been licensed in Virginia.
Operation Rescue has filed complaints in the District and both states asking for immediate investigations into Pendergraft's dangerous late-term abortion operation.
Pendergraft has a long history of legal issues that have included four suspensions of his medical license. In his latest suspension issued on August 7, 2010, the Board found that Pendergraft had allowed an unlicensed employee to order and administer drugs even though she was unqualified and had a known history of drug abuse. He also was disciplined for prescribing steroids to her for unknown reasons.
Another suspension, issued on January 26, 2010, alleges additional drug violations and includes discipline for a horrifically botched abortion.
After inadequately dilating Patient S.B.'s cervix for a D&E abortion, Pendergraft ruptured her uterus and shoved the pre-born baby's body into the abdominal cavity. She was rushed to the hospital where she received an emergency hysterectomy along with the removal of the dead fetus, which was missing an arm. The arm was later found at Pendergraft's EPOC abortion clinic. His not reporting that he had removed the arm caused a delay in her care at the hospital as surgeons futilely attempted to locate the missing appendage.
Pendergraft's Florida medical license was also suspended in 2006 for doing illegal late term abortions.
"Pendergraft is a proven danger to the public. It is to their shame that the Florida Medical Board has not permanently revoked his license. The fact that he continues to operate five abortion mills there and now one in the Washington metro area is not only disturbing, but unacceptable," said Newman. "This is another example of authorities willing to look the other way and abortionists who are willing to endanger women and violate laws because they believe they are somehow above them. We pray our complaints will help stop this abuse and bring Pendergraft to justice."
ASK GOD TO STOP ABORTION IN OCALA
AND THROUGHOUT OUR NATION & WORLD -
JOIN OUR PEACEFUL PRAYER VIGIL TODAY!!!
To date, 1,332 campaigns have been conducted in 387 cities across all 50 American states, the District of Columbia, one American territory -- plus communities in Canada, Australia, England, Ireland, Northern Ireland, Denmark, Spain, Armenia, Georgia and Belize. These campaigns have created a track record of extraordinary life-saving results:
More than 400,000 people of faith and conscience have joined together to pray and fast for an end to abortion
4,313 children have been saved from abortion
Hundreds of women - and men - have been spared from the pain and regret of abortion
Those with abortion experiences in their past have found healing
13 abortion facilities have gone out of business following 40 Days for Life campaigns
Other abortion facilities have experienced sharp setbacks, cutting back hours and closing down for days at a time
53 abortion workers have quit their jobs due to 40 Days for Life efforts, including Abby Johnson, director of the Planned Parenthood abortion facility in the city where 40 Days for Life first began
Media outlets have given the pro-life position prominent coverage with more than 1,500 news stories
Churches have been activated and united for life
New people have been recruited, educated, and mobilized
People have turned back to God with renewed hope
40 Days for Life requires lots of prayer, hard work, and personal sacrifice, but the campaign is actually quite simple.