APPLY TO LEAD A 40 DAYS FOR LIFE CAMPAIGN IN YOUR CITY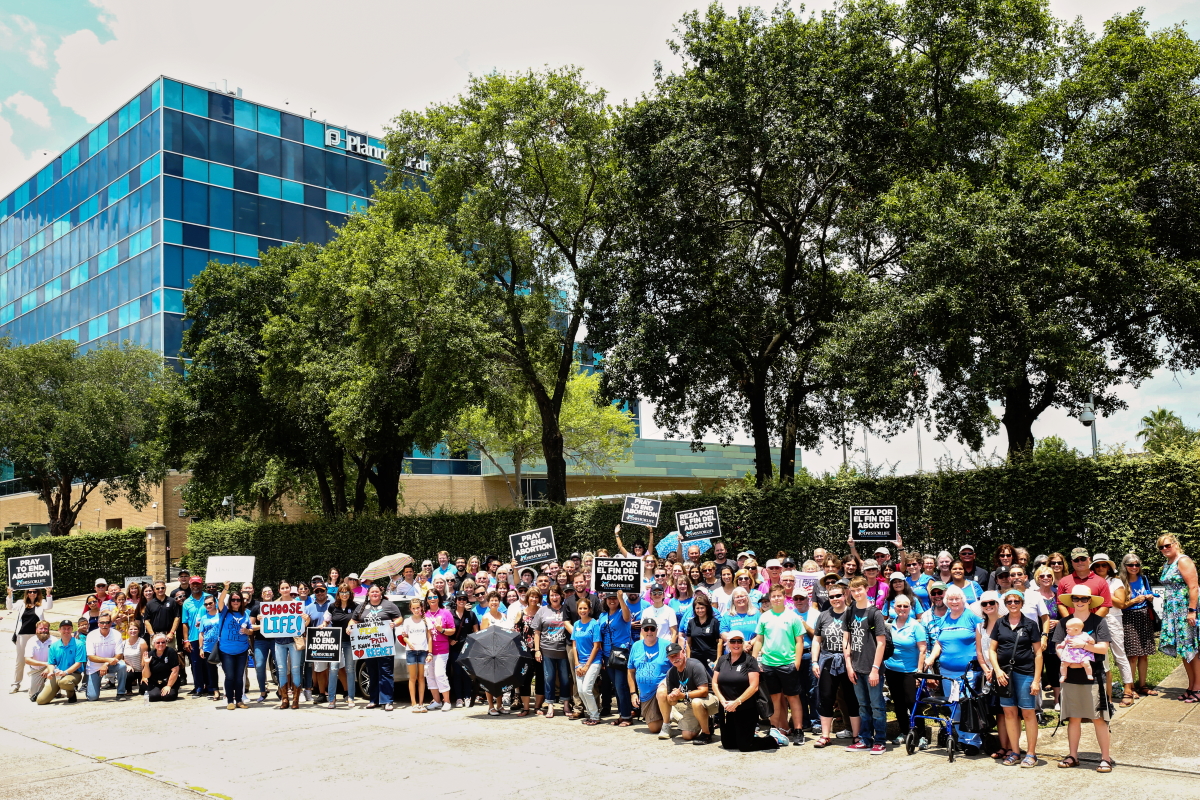 Abortion is the leading cause of death in the world, destroying the lives of more than 42 million children every year and wounding millions of women. Amidst this darkness, there is hope.
40 Days for Life:
Proven life-saving RESULTS …
right in the community where you live
After decades of abortion in America and around the globe, are you — and others faithful people in your city or town — finally ready to:
Save lives from abortion …

Protect women and men from lives of regret …

Provide healing to the wounded …

Mobilize the Body of Christ …

… In just 40 DAYS?
Then this could be the most important message you've ever read.
NOTE: If you've led a previous campaign … or already know you're ready to apply for the September 27 - November 5 campaign … let's get started!
If you're not quite ready … or not quite sure … watch this short video to learn about the 40 Days for Life campaign, and to learn about its powerful track record of proven life-saving results.
The problem
In the United States alone, a nation founded on an unalienable right to life, endowed by our Creator, more than 1,000,000 innocent children are killed by abortion each year. The worldwide total is estimated at more than 42 million — every year.
However, it's not only children that are affected…
Millions of women have been wounded by abortion — some physically, and many more emotionally and spiritually — and fathers who have lost children to abortion have been shoved to the sidelines, abandoned to lives of regret.

Our children have been sold a lie about so-called sexual freedom without being adequately warned about the long-term consequences of promiscuity and sin. As a result, teenage pregnancies and sexually transmitted diseases have reached alarming levels.

The national media has overwhelmingly taken a position in favor of abortion, saturating the airwaves and print publications with biased information, and portraying pro-life Christians in a negative light.

Many Christian churches have fallen silent about abortion, and many followers of Jesus Christ have become apathetic or indifferent, failing to "speak up for those who cannot speak for themselves."
Clearly, our culture has turned away from God. This may seem like cause for despair, but scripture reminds us…
If my people, who are called by my name, will humble themselves and pray and seek my face and turn from their wicked ways, then will I hear from heaven and will forgive their sin and will heal their land.
— 2 Chronicles 7:14
A proven solution
There is reason to have great hope. And that hope is found in a simple — but highly effective — pro-life campaign known as 40 Days for Life.
Starting in 2004, communities quietly began to conduct the 40 Days for Life campaign, one after another. In the fall of 2007, more than 80 communities held simultaneous campaigns. Another 30 coordinated campaigns have followed.
To date … 9,207 campaigns have been conducted in 1,144 cities across all 50 American states — plus communities in more than 65 other countries.
These 40 Days for Life campaigns have created a track record of extraordinary life-saving results:
More than 1,000,000 people of faith and conscience have joined together to pray and fast for an end to abortion

22,829 children have been saved from abortion

Hundreds of women – and men – have been spared from the pain and regret of abortion

Those with abortion experiences in their past have found healing

132 abortion facilities have gone out of business following 40 Days for Life campaigns

Other abortion facilities have experienced sharp setbacks, cutting back hours and closing down for days at a time

247 abortion workers have quit their jobs due to 40 Days for Life efforts, including Abby Johnson, director of the Planned Parenthood abortion facility in the city where 40 Days for Life first began

Media outlets have given the pro-life position prominent coverage with more than 6,000 news stories

Churches have been activated and united for life

New people have been recruited, educated, and mobilized

People have turned back to God with renewed hope
40 Days for Life requires lots of prayers, hard work, and personal sacrifice, but the campaign is actually quite simple.
Components of 40 Days for Life
One of the strengths of the 40 Days for Life campaign is its simplicity. Your community can make a tremendous impact by implementing three basic components…
1. PRAYER AND FASTING
Want to end abortion? First, you pray.
Prayer is at the center of 40 Days for Life. During the campaign, we call upon prayer warriors to fall on their knees before the Lord, asking Him to hear our plea and heal our land. Pray outside an abortion facility. Pray at church. Pray at work. Pray in the car. Pray at home with your family. Pray!
People of faith are also invited to fast throughout 40 Days for Life.
Christ said there are demons that can only be driven out by prayer and fasting. A fast is not a Christian diet; it is a powerful means of drawing closer to God by removing distractions.
Fast from food. Fast from television. Fast from excess time in front of a computer. Fast from apathy and indifference. Fast from whatever it is that separates you from God.
We believe that when God's people fast with a broken, repentant, and contrite spirit, our heavenly Father will hear from heaven and heal our lives, our churches, our communities, our nation, and our world.
2. CONSTANT VIGIL
The visible, public centerpiece of 40 Days for Life is a 40-day, round-the-clock prayer vigil outside a Planned Parenthood center or other abortion facilities in your community.
It is a peaceful and educational presence, and this 24-hour-a-day presence sends a powerful message to the community about the tragic reality of abortion. It also serves as a call to repentance for those who work at the abortion center and those who patronize the facility.
If you do not have an abortion facility or Planned Parenthood office in your town, you can still conduct 40 Days for Life. However, you will need to select a different location with some strategic significance — perhaps near the city hall, a courthouse, or a highly visible intersection.
Does your vigil have to be 24-hours a day?
No, that is not required. We do, however, encourage you to prayerfully consider this question. Those communities that have conducted a round-the-clock vigil reported amazing blessings from their additional sacrifice.
The hours are completely up to you and others planning your local 40 Days for Life campaign, as long as you commit to try and fill a minimum of 12 hours a day … at one specific facility … for each of the 40 days — one location only because that's how the campaign has experienced its most profound impact.
3. COMMUNITY OUTREACH
During 40 Days for Life, you have a great opportunity to take the pro-life message to every corner of your community.
Church involvement begins by meeting with local pastors, other church leaders, and members of different congregations. The Body of Christ is invited to pray together and participate in 40 Days for Life, uniting in one focused mission that can save lives and make an eternal impact.
Media outreach is conducted through carefully targeted news stories, talk shows, editorials, and letters to the editor. This enables you to get the pro-life message out to many people who would never see the inside of a local church.
If your community has a college campus, many students can be impacted through an intense 40-day campus outreach. This can consist of flyer raids, sidewalk chalking, petition drives, table displays, and much more.
A door-to-door petition and education drive can be implemented to reach out in your town or city. During this time, informational flyers are distributed in neighborhoods to raise awareness about the local crisis of abortion.
Community members can be invited to sign a petition of support for the sanctity of human life, and people are given the opportunity to visibly show their support for 40 Days for Life by wearing wristbands, placing signs in their yards, or displaying bumper stickers on their vehicles.
These activities can help a community rapidly identify hundreds, or even thousands, of pro-life supporters during the 40 days. These people can then be encouraged to get involved in additional local pro-life efforts during and after your campaign.
Benefits for your community
By implementing the three components of prayer and fasting, constant vigil, and community outreach, your city or town could:
Reduce abortion rates — by 15% … 20% … 25% … or more!

Recruit and mobilize hundreds — even thousands — of new people into effective, life-saving efforts

Lead post-abortive women — and men — into proven and effective healing programs

Develop dynamic new leaders to increase the future impact of pro-life efforts

Bring churches together in a historic display of Christian unity and action

Generate an enormous buzz by getting prominent pro-life news coverage — even from biased media outlets

Increase local financial support for pro-life efforts

Make the sanctity of human life a crucial issue in local, state, and even national elections
These are bold claims, however, these results (and many more) have actually been accomplished in other communities.
Don't take our word for it
Here are actual testimonials from just a few of the communities that have completed 40 Days for Life campaigns …
JACKSONVILLE, FLORIDA:
"We have graphs showing abortion numbers in Jacksonville since 2002. Abortion numbers rose continuously between 2002 and 2007. And then we had our first 40 Days for Life campaign in 2007 – and the numbers have gone down every year. In 2012, abortion numbers were the lowest they'd been in more than 10 years. The annual numbers decreased from a high of 8,529 in 2006 to 6,547 in 2012. Almost 2,000 fewer abortions a year is something to brag about!"
GREENSBORO, NORTH CAROLINA:
"The first clinic where we stood vigil closed. At our new clinic location, we saw abortion appointments go down 30%, five babies' lives were saved … and our new neighborhood embraced our public witness and quiet prayer."
CEDAR RAPIDS, IOWA:
"We've seen a reduction of 10 hours per week in Planned Parenthood's operating schedule – a 28% decrease. I found statistics that indicated that in the first year we started praying on the sidewalks, the abortions on women who live in our county dropped 16%. The number of abortions on women who live in our county dropped over 37% from 2008 through 2011 … and 37% is not trivial!"
LIVINGSTON, MONTANA:
"The campaign brought churches together in a way that I have been struggling to do for years. The pastor of one of our biggest and most influential churches here finally went to pray during the last week of the last campaign and was so impressed that he got his church involved in the next one. He said that he'd wanted to get more involved for a long time, but never felt comfortable with many local efforts. Finally, this was what he was looking for."
MARQUETTE, MICHIGAN:
"Individuals came to pray with us, thanked us, shared their stories, and brought us coffee and hot chocolate in the cold weather. Middle school students repeatedly came out because it was important to them, regardless of the fact that they were getting some of the most intense opposition. We had many participants who were no longer afraid to stand vigil, and as a result of our prayer, women canceled their Planned Parenthood appointments."
SHEFFIELD, ENGLAND:
"I'm amazed at the response, which has been overwhelming. I think back to our planning sessions and wonder if I'd have believed the response we've had. God has blessed our campaign so much. There have been incredible graces received just by the participants and the new 40 Days for Life community we now have formed. All these blessings are signs of just how much our prayers have been heard and answered. I think that everybody would start again on Monday if they could, which really bodes well for the next campaign. This is just the beginning and it will grow from here and save many lives."
FLINT, MICHIGAN:
"Business at the abortion center was down the last two weeks of the campaign, especially on Saturdays when we saw only one-third as many cars as usual. We were able to guide many mothers to local pregnancy centers, and have had an increasing number of media contacts as our campaigns continue – including secular radio and newspaper interviews."
MERIDIAN, IDAHO:
"Because of the new Meridian Planned Parenthood, a lot more Protestant and Evangelical churches showed up. One small church brought their whole congregation (60-70 people) out once a week. On those days and on other hours when several prayer warriors were present, apparently Planned Parenthood felt the impact – appointments were canceled, they called the police, and came up with annoying actions that they hoped would deter prayer warriors. It didn't. Rather, it emboldened them!"
FALLS CHURCH, VIRGINIA:
"It was great to see many new faces from different churches and campuses throughout this campaign and seeing many come out during our crazy snowy and rainy weather. The preliminary 2013 abortion statistics from the Virginia Department of Health came out. For our Northern Virginia area, abortions decreased by 24%, down by 1,926 from 2013. I believe the prayerful presence at the abortion center prevented what could have been more deaths."
TUSCALOOSA, ALABAMA:
"We really didn't know what to expect … we really didn't even know what we were doing at first. We're just a bunch of college kids, but the Holy Spirit totally guided us. People would just show up to the campaign–people who we never contacted and didn't know. God just made it possible for everything to happen the way that it did. Also, we are so grateful for one volunteer who would set up a tent at our vigil and stay there from 8 am – 5 pm. He was a driving force behind our campaign being successful."
FARGO, NORTH DAKOTA:
"We accomplished 960 hours of continuous prayer outside North Dakota's one remaining abortion facility once again. Twins were saved from abortion this campaign. This brings the total of lives saved in Fargo since 2007 to 57. And those are the ones that we know of! The number of abortion days has been reduced significantly, as well as the number of abortions being performed."
EUGENE, OREGON:
"One abortion center closed, and so we've moved our vigil to a second facility in our area. We have been blessed by lives saved from abortion, as well as knowing that one employee quit her job at Planned Parenthood. The uniting of the many different faiths under a common goal is truly remarkable, and through 40 Days for Life I have made many lifelong friends. This is all so exciting!"
RIVERSIDE, CALIFORNIA:
"Two babies were saved, and many more mothers were referred over to our local pregnancy care center that we are hopeful will choose life. One Planned Parenthood worker quit during the campaign. Another employee wants out and is working with some of our partners in order to find other employment. Praise God!"
DAYTON, OHIO:
"I believe 40 Days for Life unites the Christian community in a way that no other program currently does. We had great crowds at our rallies. As each rally included a prayer service, we felt united in prayer and praise. We got one local university involved and a few high schools. Praying with others and seeing results is always the best blessing."
We've received many, many more powerful testimonials, but these few should help you to see that God is clearly at work — through His people — in amazing ways.
Read what internationally respected leaders say about 40 Days for Life.
Momentum is building
Following the enormous success of 31 coordinated 40 Days for Life campaigns, many additional communities have expressed a desire to join this movement. As a result, the next coordinated 40 Days for Life campaign will be held from September 27 - November 5.
With God's help, 40 Days for Life could help mark the beginning of the end of abortion.
Now here's the question for you …
Should your community participate?
We can't answer that question for you … but God can.
If you haven't already, begin to pray about your involvement. Talk with others in your community and evaluate their level of interest. Review all of the materials available on this site. Form a core team to pray and plan for your campaign.
But do it quickly, because it's time to make a decision!
From September 27 - November 5, widespread communities will be joining together to fervently seek God's will and work tirelessly to end abortion.
The application period for this next campaign closes on Wednesday, June 28, to ensure that all participating cities have the needed time for training and preparation to kick off a successful campaign.
Ask yourself:
Will you be on the front lines, making a life-saving impact on your community and your nation?

Or will you simply be sitting on the sidelines, watching others write the pages of history?
The very fact that you've made it this far leads us to believe that you do have an important role in this monumental initiative.
And you'll have lots of help.
What you'll be getting
By applying to lead a local 40 Days for Life, you will be given all the help, resources, and training you need — exactly when you need it — to successfully plan and implement your local campaign. (We've learned from previous campaigns what should happen when.)
You will have our headquarters experts and other local leaders working side-by-side with you every step of the way, and we promise not to dump everything on you right at the very beginning (or you'd probably go into information overload!
#1: TRAINING MODULES
Everything will be broken down into step-by-step modules that guide you through the advance planning and continuing all the way through the 40 days.
Modules will consist of:
Comprehensive video training sessions delivered online with presentations detailing exactly what you and your team need to be working on. These modules are the foundation of your 40 Days for Life training.

Printable training guides that may be downloaded from the internet; it will build upon the content delivered during each training module.

Implementation tools including checklists, to-do items, calendars, and forms relevant to where you are in the campaign, all delivered online.

Resource templates for materials needed at each stage of the campaign delivered to you from the 40 Days for Life web site.

Planning tips for your key events — the Kickoff Rally, the Midpoint Rally, and your Victory Celebration.

Supplemental items including suggested reading, videos, audios, all delivered online for your convenience.
We've done everything possible to streamline this into a very simple process for you.
The bottom line: if you have a computer — and you can follow simple step-by-step instructions — you will be able to conduct a successful 40 Days for Life campaign in your town.
#2: ONLINE CAMPAIGN HEADQUARTERS
Following the approval of your application, you will be given access to a private web-based headquarters set up for the exclusive use of communities conducting 40 Days for Life.
The online campaign headquarters will be the central hub of information where you will be able to …
Download campaign materials, tools, training, and templates for every aspect of your campaign

Get help when questions and challenges come up

Share new ideas and best practices
#3: LEADERSHIP EMAIL COACHING AND UPDATES
All local leaders of your 40 Days for Life campaign will receive exclusive updates, coaching tips, and breaking news from the 40 Days for Life headquarters by way of email, enabling rapid and consistent communication.
#4: RESOURCE TEMPLATES
You will be given access to web-based templates for just about everything you could possibly need … including editable, downloadable samples of:
Promotional literature including flyers, information sheets, bulletin inserts, and pulpit announcements

Community outreach petitions including templates for a quarter sheet card and a full sheet

Professional graphic files of the trademarked 40 Days for Life logo for you to use on your own, customized materials
Each template will be fully customizable so you can adjust the item to fit your local campaign. All templates will be delivered digitally to you on the internet to reduce expense and to make them readily available when you need them.
#5: MEDIA AND PUBLIC RELATIONS ASSISTANCE
To help generate local media coverage around your 40 Days for Life efforts, at different times throughout the campaign you will be given access to online:
News release templates that can be customized with the specifics of your local campaign

Sample talking points to help you stay organized and focused in any communication with media outlets

Coaching on media skills including identifying local media outlets, preparing and sending a press release, responding to news inquiries, handling media interviews, and the power of the opinion page
#6: LOCAL CAMPAIGN WEB PAGE
Once your application is approved, you will receive a special page on the 40 Days for Life website, making it easy to get local people involved in your efforts.
The expert graphic design of this page will convey professionalism to people in your community and will be consistent with the look of the international 40 Days for Life branding.
Your city can apply to participate
If you were to conduct a campaign like this completely on your own, the cost for everything we're providing could run you several thousand dollars. (We know from experience that the first 40 Days for Life cost nearly $15,000 to put together.)
By consolidating efforts — and due to the incredible generosity of 40 Days for Life donors — we are thrilled to be able to provide your community everything mentioned above for a very modest amount.
Even though the cost for the national team to support each local campaign is more than $500 per site, the application fee for each location wanting to conduct a 40 Days for Life campaign is still only $197. That includes everything listed in the section above!
Your application can be easily completed online today.
But HURRY — because the deadline for your application is Wednesday, June 28.
Also keep in mind that there will be other costs tied to your campaign … for events, vigil supplies, printing, promotion, mailings, phone calls, etc. These costs can vary by community, from a few hundred dollars to several thousand dollars, depending on how ambitious you decide to make your campaign.
However, raising funds for this project can actually be a great blessing as you watch God provide for the campaign's needs.
Numerous communities that conducted 40 Days for Life reported great success in offsetting their campaign costs through…
Organization growth: several communities experienced a significant increase in pro-life funding before, during, and after 40 Days for Life. Supporters are excited to get behind something that is making a visible impact. This increase will often offset campaign costs in part or full.

Shared cost: several churches or organizations can go in together and share the campaign costs.

Special offering: events can be a great opportunity for people to share the blessings they've received during 40 Days for Life.

Sponsorship: Consider inviting key individuals, organizations, or businesses to underwrite some or all of your campaign costs.
However you choose to offset the costs of 40 Days for Life, all funds raised before and during your campaign will stay right where they are needed the most — in your community.
If God is moving your heart to involve your community in this history-making campaign, we believe that He will provide you exactly what you need when you need it.
If you have prayed about this, discussed it with your family, talked with others in your community to begin forming a core team, and taken the time to review this information, then your community is ready.
Select one person to complete this application process to avoid duplication (but don't worry — if we find overlap or duplicates later, we'll sort it all out and credit back any extra application fees), and let's start making history.
Our personal guarantee to you
We don't want any community to sign up and then fail. That doesn't do you any good, and it certainly doesn't do anything to help the pro-life cause.
If your community feels called to participate in 40 Days for Life, go ahead and register today at NO RISK whatsoever. If for any reason, by the end of 30 days, you honestly feel we didn't deliver on what was promised — or if things just aren't coming together in your community — ask for a full 100% refund. We'll happily oblige.
We're that confident that nothing out there comes CLOSE to the results you'll generate by doing a 40 Days for Life campaign.
This "make sure you're happy" guarantee is our way of taking ANY worry off your shoulders about making this important decision.
If you're ready to end abortion
Now is the time to speak up for those that cannot speak for themselves by completing the application for your community to participate in the September 27 - November 5 coordinated 40 Days for Life campaign.
Fill out your application now. It will be reviewed and you will be contacted by our team as soon as possible.
But HURRY… the application deadline is Wednesday, June 28!
Previous 40 Days for Life leaders can apply to lead the 40 Days for Life 365 program. This application can be found on the new 40 Days for Life University webpage!
This elite-level initiative provides local 40 Days for Life leaders with new training, tools, and resources to begin hosting year-round vigils beginning NEXT MONTH.