40 DAYS FOR LIFE BENEFIT 2020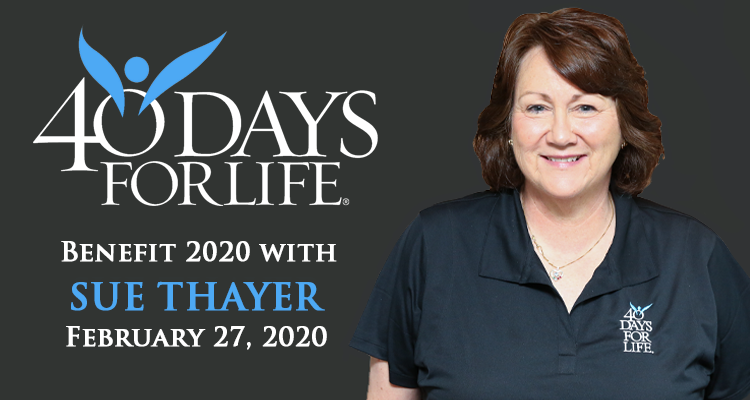 What started in the Brazos Valley is changing the world!
In 1998, Planned Parenthood opened the first abortion facility in the history of the Brazos Valley. In response, thousands of concerned community members joined together to form the Coalition for Life.
In 2004, the Coalition launched 40 Days for Life, an initiative of prayer and fasting, peaceful vigil, and community outreach. 40 Days for Life has since grown into a worldwide movement, mobilizing 1,000,000 volunteers in 930 cities across 64 countries.
As a result, 16,742 babies' lives have been saved from abortion, 196 workers have quit the abortion industry, and 104 abortion centers have closed – including the Planned Parenthood in Bryan!
On Thursday, February 27, you are invited to help expand this life-saving momentum by attending Benefit 2020 … right in the heart of Texas, where it all began.
Benefit 2020 speaker: Sue Thayer

Sue joined the 40 Days for Life team in 2018 as director of outreach. She hails from Storm Lake, Iowa, where she was a long-time center manager for Planned Parenthood. After a direct push from God, Sue led a 40 Days campaign outside her former facility. Within weeks, the abortion center closed. Sue has done lots of traveling, sharing her deep passion for life as well as her insider's knowledge of the abortion industry. As a birth, adoptive and foster mom, she adores babies and children. Having come full-circle, Sue is living proof that God can forgive and save anyone.
Reserve your spot for Benefit 2020!

THURSDAY, FEBRUARY 27 • 7–9 PM
BRAZOS COUNTY EXPO COMPLEX
5827 LEONARD ROAD, BRYAN, TX 77807
The sit-down dinner will begin at 7:00 PM followed by the program.
An RSVP is required no later than Friday, February 21.
Table sponsors will be given preferred seating based on the level of sponsorship. A limited number of general seating tickets are available for $15 each ($10 for students). RSVPs for general seating will be taken on a first-come, first-served basis. This event can fill up very quickly so please RSVP online below … or call (979) 846-2825.
Table sponsorship includes seating for 10 people.

SPONSOR A TABLE:

GET INDIVIDUAL TICKETS:
40 Days for Life is a 501(c)(3) nonprofit organization and all donations at the event are tax deductible.